The ESP32 is something like the big brother of the ESP8266. As well as WiFi, it also lets you use Bluetooth. And best of all, you can easily program it with your Arduino IDE – just like your Arduino boards. However, you need to make a few preparations.
Find out how to install your EPS32 in your Arduino IDE in 5 minutes and then start programming.
Bestseller Nr. 1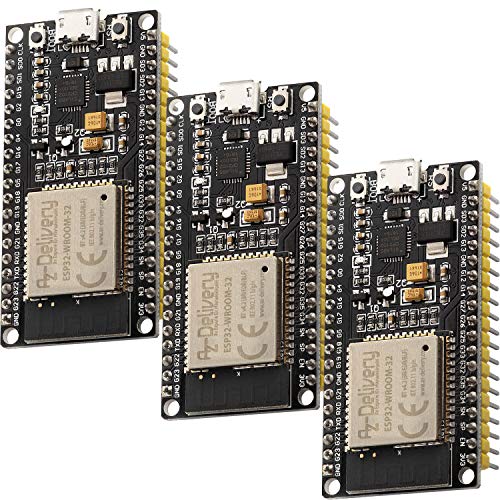 AZDelivery 3 x ESP32 NodeMCU Module WLAN WiFi Dev Kit C Development Board mit CP2102 (Nachfolgermodell zum ESP8266) und inklusive E-Book!
✔️ Sichern Sie sich jetzt drei AZDelivery ESP32 NodeMCU Module zum Vorteilspreis mit Mengenrabatt!
✔️ Leistungsfähiger ESP32-Microcontroller verbaut! Absolute Neuheit am Markt! Komfortables Prototyping durch einfache Programmierung per Lua-Script oder in der Arduino IDE und Breadboard-kompatible Bauweise.
✔️ Dieses Board verfügt über 2,4 GHz Dual-Mode Wi-Fi und Bluetooth-Chips von TSMC sowie die 40nm Low-Power-Technologie.
✔️ Das Modul hat 38 Pins und bietet mehr Funktionen als ein 30-Pin-Modul. Und es ist kleiner und bequemer in der Anwendung.
✔️ Willkommen in der AZDelivery-Familie! Hier finden Sie qualitativ hochwertige Produkte für Ihre Projekte mit Arduino und Raspberry Pi. Wir freuen uns, Ihnen eine Reihe von Anwendungsbeispielen, komplette Installationsanleitungen, E-Books, Bibliotheken und persönliche Unterstützung anbieten zu können.⭐️⭐️⭐️⭐️⭐️ AZ-Delivery: Ihr Mikroelektronik-Experte!
Install your board in the Arduino IDE
First open the settings of your Arduino IDE. There you will find the field Additional Board Manager URLs. Enter the following address here:
https://dl.espressif.com/dl/package_esp32_index.json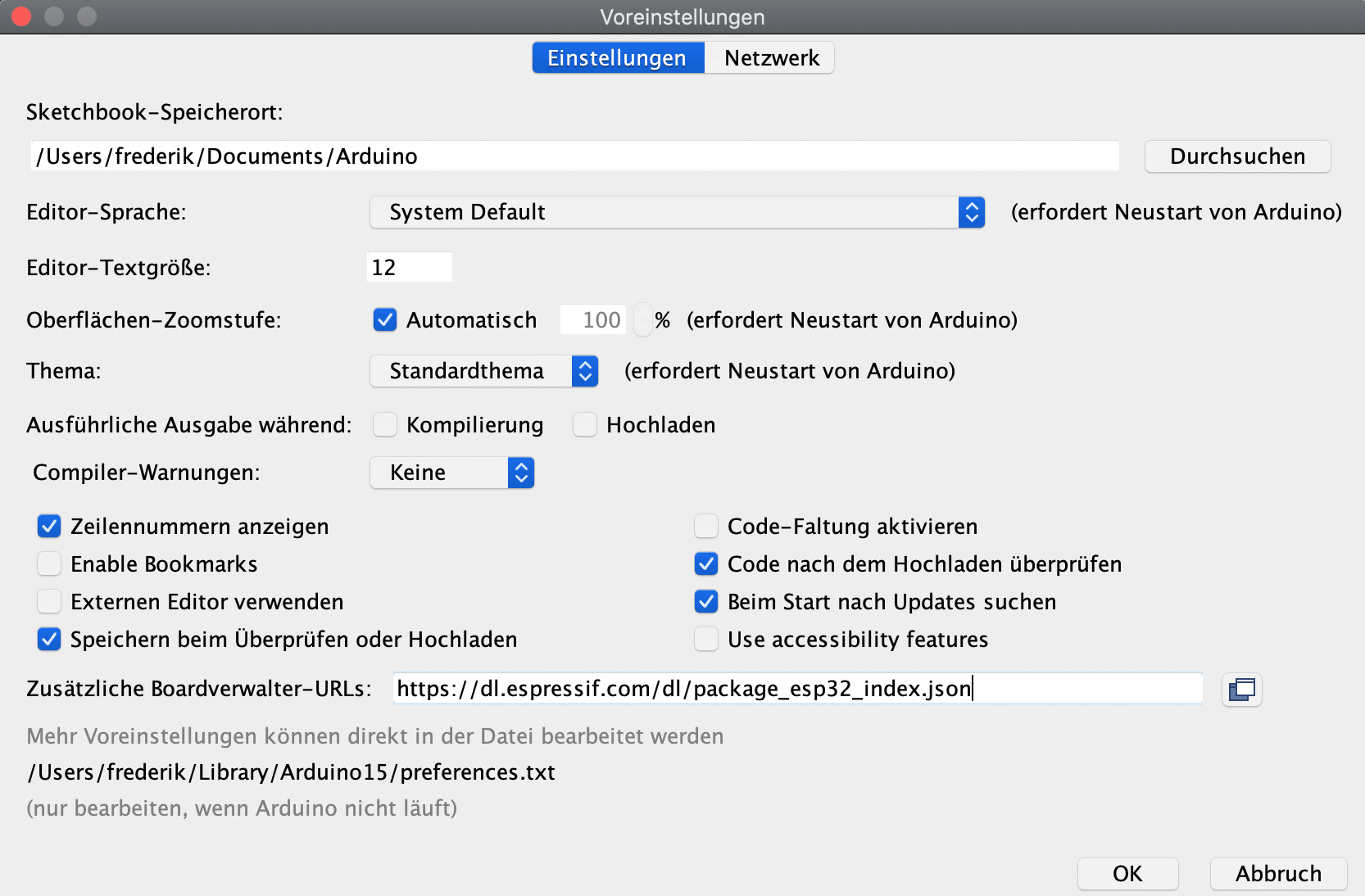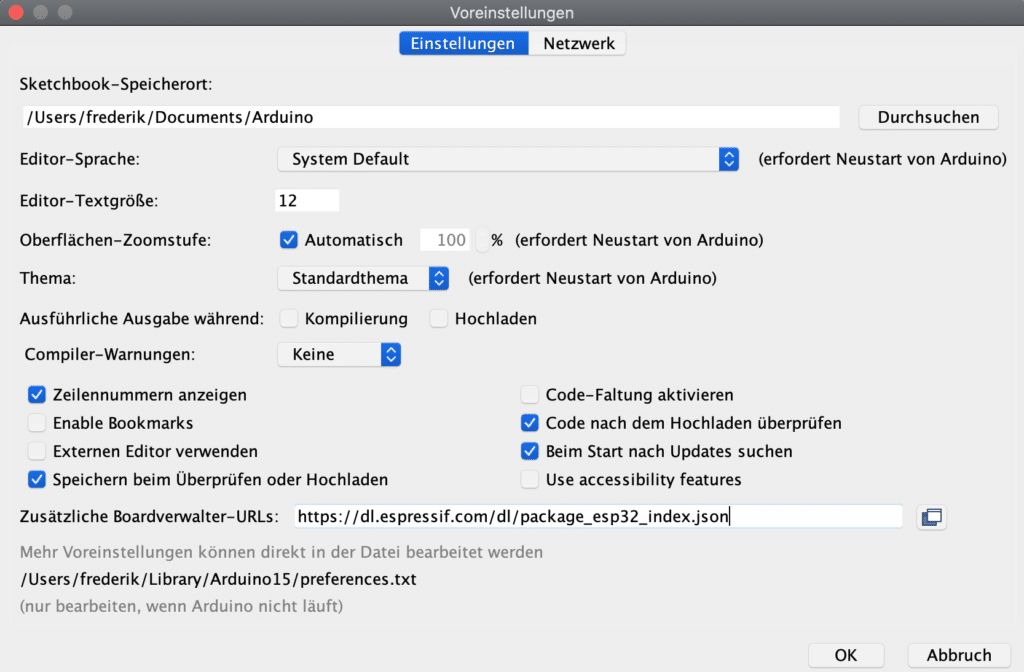 Tip: If you have already entered the URL of your ESP8266 there, simply write the URL of the ESP32 behind it, separated by a comma. Then you will have both in the Arduino IDE.
Now close the window with a click on OK. Next open the Tools menu and select the menu item Boards and then Boards Manager.
Search for ESP32 in the window that opens now. You will probably find only one entry there. One more click on Install, wait a moment and that should be it. 🙂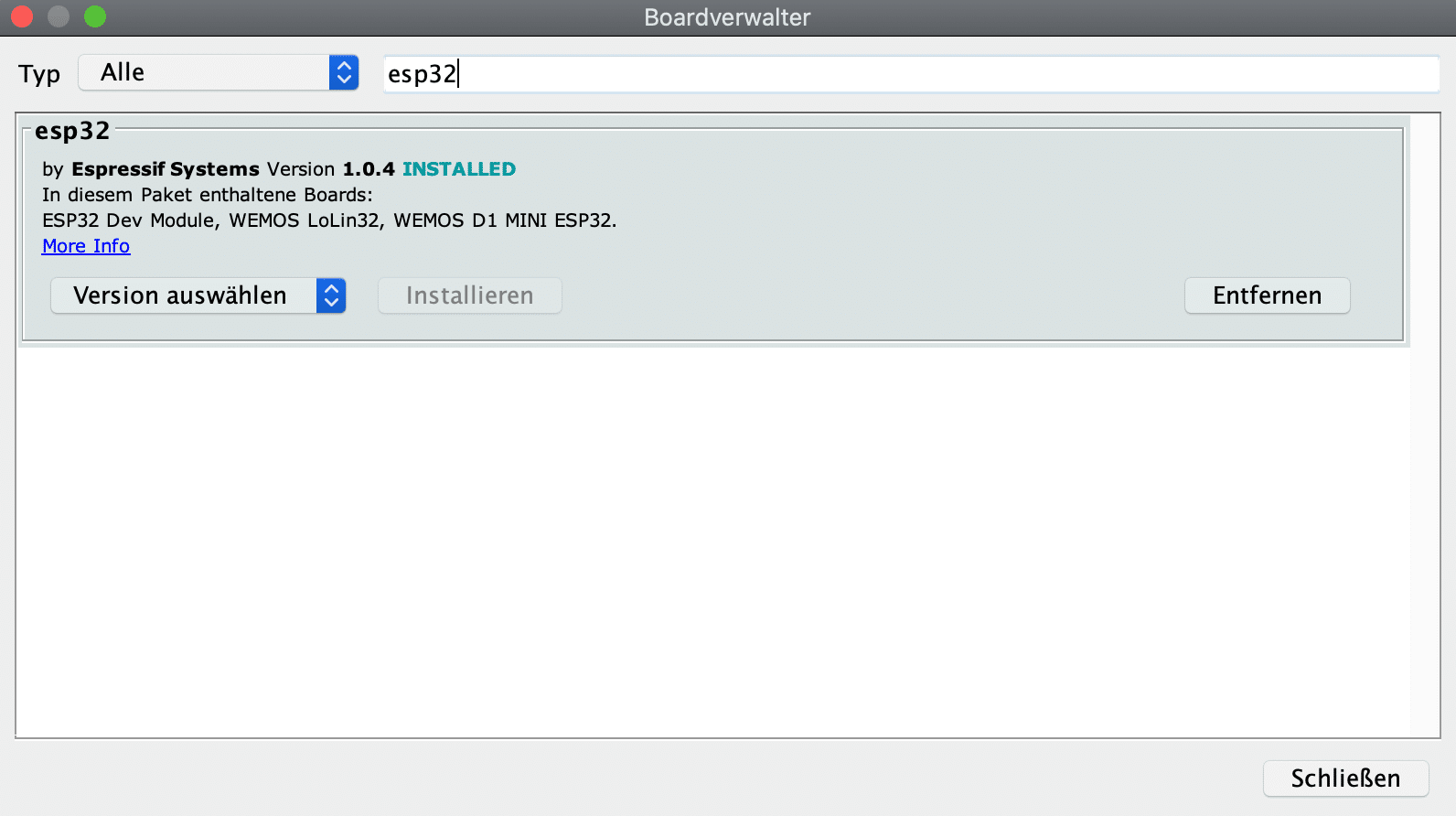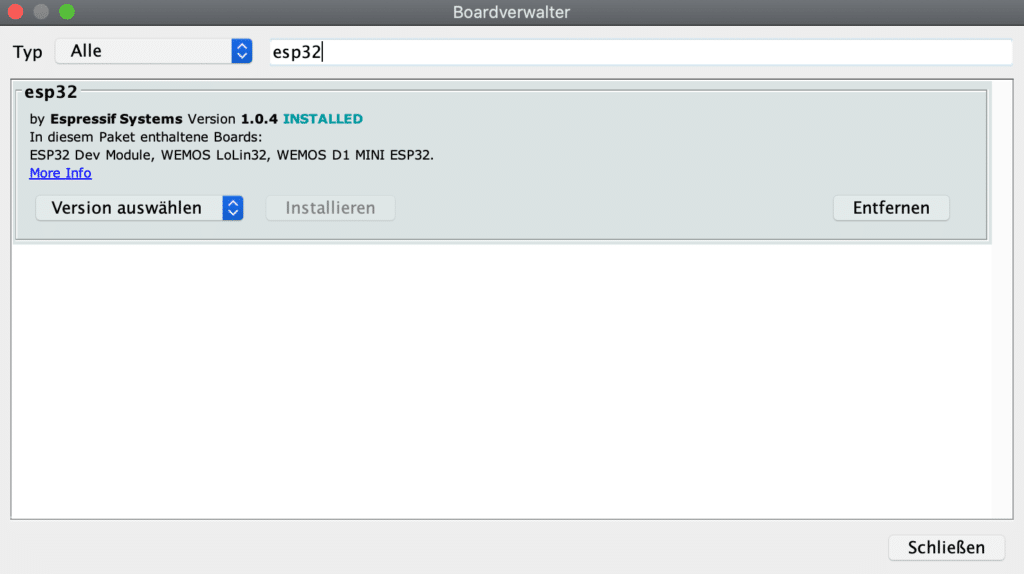 Upload a sketch to the ESP32
Now connect your ESP32 and select your model and the correct port in the menu under Tools > Board.
In File > Examples you can find the sketch WiFiScan under WiFi. This sketch is suitable for a first test, because it does nothing else than showing the available Wi-Fi networks in the area.
So open this sketch and load it onto your ESP32. After the upload you will find in your Serial Monitor (115200 Baud) the networks in the area.
Not working?
If you have problems uploading, try the following:
Hold down the BOOT button on your ESP32 and start the upload. As soon as the status "Connecting…" appears in the Arduino IDE, you can release the button. The upload should now proceed.
Letzte Aktualisierung am 2020-11-26 / Affiliate Links / Bilder von der Amazon Product Advertising API